Robot: e-puck
Options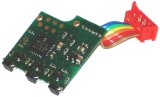 Ground sensors
The ground sensors for the e-puck robot use three infrared proximity sensors point to the ground in the front. The ground sensors can be used for following a black line on a white background.
Extra Battery
An extra battery allows for approximately 3 hours of usage.
Charger
Allows for recharging the e-puck battery
gumstix
Option allows to increase the computational capability of the e-puck. The gumstix is a 600 Mhz processor that runs Linux.
© 2010, AAI Canada, Inc.
AAI Canada, Inc. provides this information as an informational tool to the public,
and is not responsible for any errors in content. All information should be verified by the reader.
General Inquiries:
Contact Us
Technical Inquiries:
Webmaster