Manipulators with different sensors
Intelligent control
Can be used stand-alone or on a mobile robot
High precision
Harmonic drive - minimizes backlash
Quick movement: 90 - 175 degrees/second per joint
Degree of freedom: 4, 5 or 6
Controller: 1 motor controller per joint
Communication: Web application, miniUSB
I/O support: Beckoff, Wago I/O devices, Modbus, ROS, Webservices
Power: 36 V DC
P-Rob® is the family name for innovative, versatile and high-quality programmable robotic arm with fully integrated electronics. Highly flexible robotic gripper systems, P-Grip, are fabricated for sensitive and safe grasping.

P-Rob® 1R is a a persomal robotic manipulator with six degrees of freedom. A two-finger gripper can be mounted on P-Rob either in the direction of the forearm or in a right angle, depending on the task.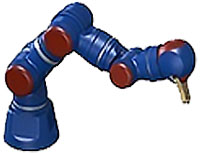 Research & education mainly in artificial intelligence, engineering, automation, social interaction
Industrial automation of handling objects, assembling, quality control
Service robotics

Stand-alone, or on a mobile robot
Control and communication with P-Rob through myP web interface

P-Rob 1R
Motors
Brushless DC Motors
Precision
+-0.1 mm (repetition accuracy)
Degrees of Freedom
6
Operating Range
77 cm radius (without gripper)
Construction
Aluminum skeleton, soft cover for safety
Weight
ca. 16 kg ( without base plate of 1.2 kg)
Payload
3 kg (1.5 kg when P-Grip mounted)
Operating Voltage
36V (24V possible, reduced speed)
Speed
90 - 175 degrees in 1 second per joint

Internal Communication
Embedded PC for sensor data acquisition
I2C bus for sensor data transmission
CAN bus for motor control and data transmission
External Communication
Web application running on external PC
Mini USB port for controlling
Ethernet port for monitoring sensors


P-Grip® is the family name for a highly flexible robotic gripper systems for sensitive and safe grasping

P-Grip® 1
Standalone device with two 15-pin D-Sub connectors
Consists of gripper itself and two removeable fingers
Optimally designed for P-Rob
Can be used with other robots or automation equipment
Can be mounted on P-Rob either straight on the top of robot (180 degree) or in a right angle with the robot (90 degree)
Gripper is able to hold objects with 19mm to 108mm diameter
Fingers can be optionally equipped with up to two IR proximity sensors and A/D converter each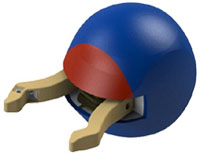 ---
© 2015, AAI Canada, Inc.
112 John Cavanaugh Drive, Ottawa,
Ontario, Canada K0A 1L0
TEL: +1.613.839.6161 or 1.800.895.1122 ; FAX: +1.613.836.5567
AAI Canada, Inc. provides this information as an informational tool to the public,
and is not responsible for any errors in content. All information should be verified by the reader.
General Inquiries:
Contact Us
Technical Inquiries:
Webmaster